Experience history through the centuries in these famous Italian cities by visiting ancient monuments like the Tower of Pisa and the Colosseum. The lifestyle in Italy is all about enjoying the fine pleasures in life, and most Italian activities combine leisure and artistic precision. While touring is rarely a slow task, you'll find the time to enjoy the sights in front of you. If you have an appreciation for the Renaissance and its art, ancient history, wine, and food, you'll enjoy your trip to Italy. To truly enjoy the city of Rome, it's best to do as the Romans do: Relax and enjoy the warm weather, appetizing cuisine.

When to Visit Rome 

As one of the major art cities in Italy, Rome attracts visitors year-round. The most popular times to visit are the spring and fall, when the weather isn't quite so warm, making them the ideal times for sightseeing.

                                        BOOK NOW

     8 Day Enchanting Italy (Friday Departure) From     $1499  Land Only  

     From $2199  Air & Land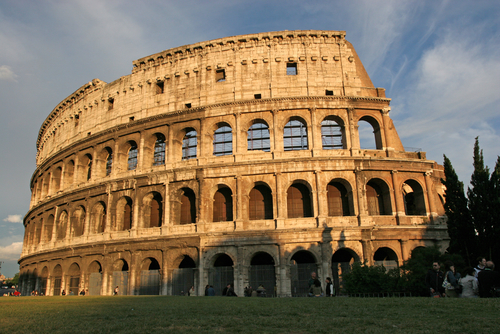 Travel back in time when gladiators fought for glory and talented artists painted divine portraits. Rome is a city so grand and marvelous that few can fully appreciate its splendor. For travelers looking to take a break from reality and lose themselves in ancient times, the Eternal City is the choice destination. From museums and ancient ruins to full-bodied red wines and home-made pasta, the treasures of Rome are yours to be discovered! 

Few European cities can compare to the grandeur that is Rome. A bustling metropolis with remnants of its past, the Eternal City blends modernity with snapshots of things that once were. The Colosseum stands as a reminder of societal divide and heroic battles while the Vatican remains the center of deep religious and political tradition of the Italian people. Famous works of art, delightful people, and culinary wonders that soothe the soul, Rome is a city that must be experienced to fully appreciate its magic. 

Visit three famous Italian cities on one incredible vacation. Ride the canals of Venice or roam the narrow sidewalks for hand-blown glass. While in Florence, sample full-bodied red wines and home-made pasta after gazing at Michelangelo's David. Your adventures end in the Eternal City, where historic structures like the Colosseum, Vatican, and Trevi Fountain still stand as a reminder of Rome's tremendous past. Such as taste will leave you craving more! 


           Plan Your Vacation Now!  

.  Call Your Travel Agent:  (225) 270-5055