Greece and the Greek Islands are the Europeans' favourite vacations destination. Greece is a country of natural beauty and charm which welcomes every year millions of visitors from all over the world. 

 Few words about vacation in Greece

Greece is one of the smallest European countries, located in the most oriental point of Europe, in the Mediterranean Sea, between Italy and Turkey. Despite its size, it is considered one of the top vacation destinations by the Europeans and the other nationalities due to its enormous natural beauty and the careless life style that it shows.

Whether for winter or summer vacation, Greece offers many options to its visitors. One of its strong advantages is the calm Mediterranean weather that allows traveling at ease and is ideal for perfect tanning in summer! On the sandy beaches of the Greek islands you will fall in love with the unique blue color of the Aegean or the Ionian Sea.

For those who are fond of sports, many kinds are provided on the hot tourist destinations all over the country. The more adventurous can choose from windsurfing, kitesurfing, rafting, hiking, rock climbing, kayaking offered by quite many places. For those who seek a more relaxed version of Greece active vacation, may choose from horse riding, golf, biking or even from a kind of the special Greece vacation packages, including gastronomy, archaeological, medical, religious holidays that will give you an insight to particular aspects of this magnificent country and will bring you in actual touch with its deep roots and culture.

However, Greece is not only a summer-land. For those who love snow sports or romantic vacations relaxing at the fireplace, then you only have to choose between the popular winter destinations such as Kalavryta, Zagoria, Arachova and many others.

In Greece you will find every type of accommodation, from luxurious villas and hotels to rooms to let and camping sites. Whether you want a cheap vacation or a luxury one, this is the ideal place.


           Plan Your Vacation Now!  

.  Call Your Travel Agent:  (225) 270-5055

In Greece you will find every type of accommodation, from luxurious villas and hotels to rooms to let and camping sites. Whether you want a discount vacation or a luxury one, this is the ideal place.

                           BOOK NOW

8 Day Greece from $1690.12  Air, Land, Hotel & Rental Car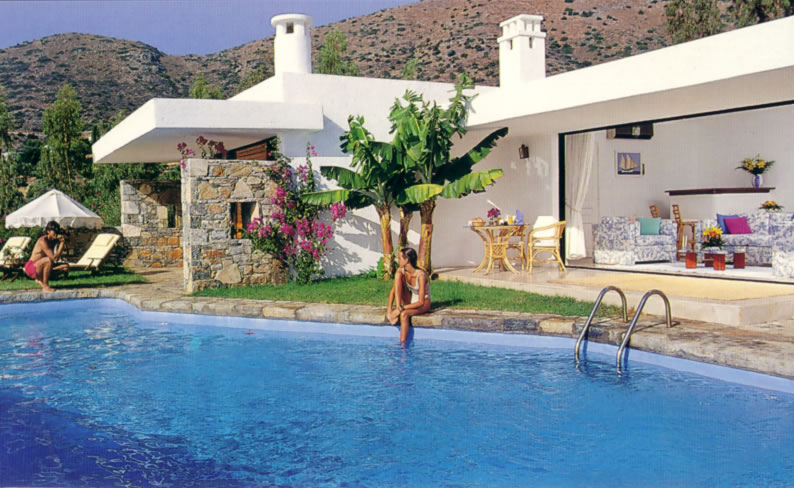 Magnificently located on an elevated stretch of land. The Peninsula is an all-suite independent wing where the Rooms start with Maisonette style Suites and culminate with the Grande Suite, a gem of many carats.

Every need is anticipated, whether it is dining en suite, Children's Care, or special Wellness Programmes. Exclusively for Guests, there is a Health Club with indoor Pool, Steam Bath and Sauna, as well as home theatre and a wine-tasting Cellar.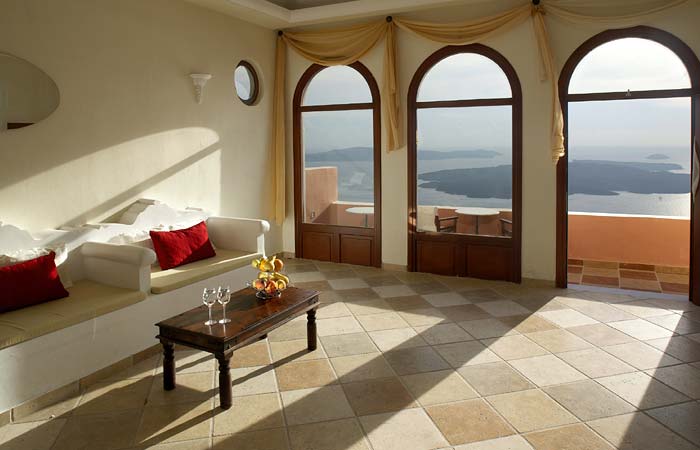 Room Facilities: Daily maid service, Mini bar, Air Condition, Hair dryer, Direct dial phone, Bathroom Heater, Internet hook up, Bathroom Toiletries, Safe Box, Jacuzzi and private balcony (in superior rooms) 

Hotel Facilities: 24 Hours Reception, Swimming Pool With Jacuzzi Jet Streams, Breakfast Room, Sun Loungers and Umbrellas, Internet Corner, Pool Towels and Beach Towels Provided, Porter Service, Panoramic Sea View Sun and Roof Terraces, Fax Service and Lounge With Panoramic Sea View, Public Parking Area 

The Ira hotel is a 4* superior property, very recently renovated, situated in a quiet area, in close proximity to the volcano and perched high up on the edge of the caldera. The hotel features a spectacular panoramic view of the volcanic islands, the far horizon and the deep blue sea. Just a few minutes walk from the island's capital Fira, but away from the busy town center, Hotel Ira's location is convenient for shopping and nightlife. Firostefani Village is 200 meters above sea level.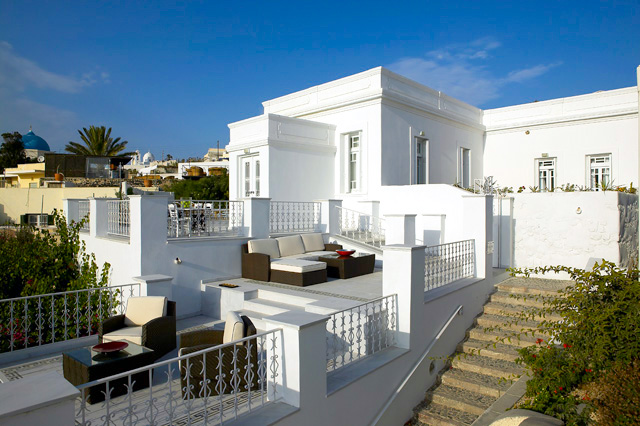 Vedema Resort is the place where style, emotions, creativity and perfection meets a world of beauty and mythology. Santorini is the island where nature shows its most incredible secrets. It is the island with the most beautiful sunsets, the most incredible views on the deep, very deep blue of the Aegean Sea. Visit Vedema Resort and share with us the most well-kept secret of the island…

Enjoy marvelous views of the beach and sea from the hotel bar or take a short stroll to the bars & restaurants in the heart of kamari. The hotel bar faces the sea, while the swimming pool is an excellent alternative to the beach, placing you in an ideal spot to enjoy the lively resort of kamari on your doorstep. Discover the harmonious Byzantine garden with archaic ruins, marble tables and classical music to calm your spirits, a peaceful area with 2 outdoor heated jacuzzis surrounded by palm trees. Afroditi Venus Beach Hotel & Spa is ideal for comfortable pleasant vacations, in the center of nightlife and at the same timel, just in front of a magnificent beach.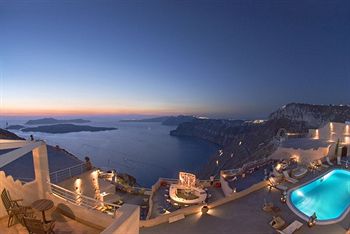 The complex is located in the most beautiful point of Santorini, on the majestic Caldera. The luxury, high aesthetics, the excellent quality of service but also the countless choices for each moment and each preference promise a whole world of recreation, entertainment and relaxation mainly by creating the ideal destination for a dreamy escape from reality.

In beautiful Cyclades, in enchanting Santorini, the island of dreams and love, and in Firostefani area , one finds Ersi villas with modern facilities for pleasurable vacations. Villa Ersi is a newbuilt complex of traditional rooms and studios so unique as the island of Santorini . Built with respect and attention to the cycladic style that reflects the tradition and uniqueness of Santorini and provides its quests with a pleasant stay. It is a family Run hotel with a personal touch, a place where you will encounter authentic island hospitality. Our family environment combined with the privacy and cleanness, is sure to make your holidays the most enjoyable yet.