Plan Your Vacation Now! 

 Call Your Travel Agent:  (225) 270-5055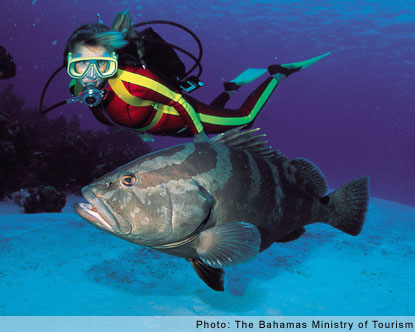 Turks & Caicos, Caribbean

Providing an undersea shelf that plunges almost a mile vertically into the turquoise ocean, it's no wonder that Turks & Caicos ranks as one of the best relatively unchartered dive sites in the world. Here you'll find miles upon miles of pristine reefs and wrecks just waiting for you to explore in addition to some of the best beaches in the Caribbean.

Destination highlights

The Turks and Caicos Islands are surrounded by one of the most extensive coral reef systems worldwide at 200 miles long and about 65 miles wide 

Enjoy excellent visibility up to 200 feet, pristine reefs, abundant tropical marine life and exceptional wall diving and shipwrecks 

Since the reef is right off the shore of Grace Bay, boat rides to the dive sites are only 15-20 minutes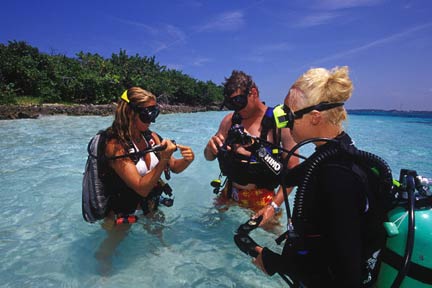 Grand Bahama Island sits on one of the largest reef systems in the world and has earned a reputation as a diver's paradise since the 1950's when it was featured as the filming location for 'Sea Hunt.' Today, this natural paradise still impresses with detailed gardens of coral plus unique excursions where you can swim with dolphins and sharks in the wild providing a truly unforgettable experience!

Destination highlights

Cage dive with Tiger Sharks, allowing you to safely come eye-to-eye with some of the ocean's most feared predators 

Serious wreck divers will want to check out "Theo's Wreck," a 280-foot freighter resting at 100-feet filled with corals and sponges 

Discover one of the most picturesque and incredible blue holes at Ben's Cave, which is a national preserve open only to six divers at a time with many impressive and delicate geologic formations 

As home to one of the largest reef systems in the world, it's no wonder that Cozumel is the #1 dive destination in the western hemisphere. Here you'll find miles of simply stunning reefs including the famous Palancar Reef, the impressively monstrous Santa Rosa Wall and the shallow San Francisco Reef.

Destination highlights

Renowned as one of the best diving destinations in the world 

Most of the diving and snorkeling activity is focused on the reefs and shallow coral formations 

The major dive sites can be reached only by boat. If you want to stay close to shore, check out Chankanaab Lagoon or others just off the hotel beaches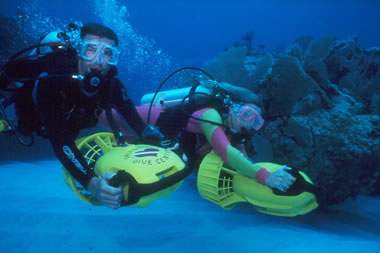 With over 200 dive sites available, Grand Cayman is the diving mecca of the Caribbean. Here you'll find almost limitless options for reef diving with crystal, calm waters providing up to 100-feet of simply stunning visibility plus the world's best 12-foot dive spot at Stingray City.

Destination highlights

With over 250 dive sites, enjoy deep, dramatic walls adorned with sponges and corals, shallow reefs filled with schooling fish and small invertebrates and an assortment of wrecks 

Scuba instruction is available for all experience levels and abilities (including handicapped diving), offered through a range of certification agencies and in several languages 

You'll see a unique variety of marine life including stingrays, sea turtles, moray eels and many others 

Sea turtles, playful dolphins and moray eels are just some of the many friends you'll meet under the water in O'ahu. Divers can choose from a variety of sites including an 185-foot minesweeper wreck at Mahi, the Kahuna Canyon, which creates the illusion of an underwater 'Grand Canyon' plus a variety of deep sea caves in Shark's Cove.

Destination highlights

Shipwrecks, wall dives, night dives, cave dives, reef dives with the turtles, and shark dives are just a few of the highlights 

From a Scuba diver's perspective, Oahu has 4 distinct regions: North Shore, South Shore, East Shore and West Shore; each offering a different dive experience 

The Yo-257 and the Sea Tiger wrecks just minutes away from Kewalo Boat Basin harbor the South facing shores is a favorite spot for scuba divers 

Belize is proof that big things can come in small packages. Despite its demure land mass, here you'll find the longest continuous barrier reef in the western hemisphere, making it one of the world's best diving destinations. In addition to stunning reef life, guests will also be treated to easily accessible cave systems and shallow waters inside the reef, providing an ever-changing rainbow landscape sure to amaze even the most seasoned diver.

Destination highlights

Scuba diving in Belize is extremely diverse and includes several different types of reefs including the Belize Barrier Reef, which is one of the largest in the world 

During full moon in the months of April, May and June, you can dive in the Silk Cay Marine Reserve to view whale sharks 

Lighthouse Reef is home to the Blue Hole, a dormant underwater volcano that has collapsed in on itself, creating a stunning 400-foot deep cavern 

The fantastic reefs near Lahaina town on Maui are an underwater adventureland of shallow coral reefs as close as 10 feet from the beach. From night diving at Black Rock, viewing wild sea turtles at Olowalu or exploring the natural wonders at the submerged Molokini Crater, you'll find nearly every type of diving experience within Maui.

Destination highlights

Maui and the nearby islands of Molokai and Lanai have plenty of coastline for divers to explore 

Maui's waters are clear, calm and teeming with sea life, making it an ideal place to get certified 

Night dives are a unique experience due to the different creatures seen after dark. If you have never experienced a night dive, Maui is the place to start 

The Gulf of Mexico is an ideal destination for your next beach vacation with your family. Hang out at one of many beaches for your spring break or holiday travel or any time you're compelled to travel.

Destination highlights

One of the best scuba diving zones on the Pacific Coast is off Bahia Drake or Drake Bay 

Isla del Caño and the Isla del Coco have an abundance of marine life off their coast, where one can encounter sharks, turtles and many different species fish 

The eastern section of Costa Rica is home to the country's only coral reef off the coast of the Parque Nacional Cahuita 

Costa Rica, Central America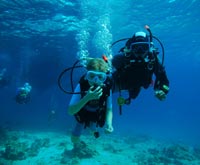 Sometimes the best diving is closer to home than you think. Hosting the world's third largest barrier reef in the world, Key West offers some of the best diving available including night diving options and several shipwrecks nestled amongst hard coral formations ideal for exploring.

Destination highlights

Key West offers excellent diving opportunities several miles off shore with many diving and snorkeling charters available 

The most popular place for both divers and snorkelers in the area is the Sand Key, offering over ten miles of coral with many varieties of sea life 

A classic tugboat known as Joe's Tug is also located off Key West in only 68 feet of water. It sits completely upright, making the 65 foot tug ideal for scuba diving